spanish cuisine is very popular for meat and fish dominated dishes. nevertheless you can find a handful of vegetarian tapas and starters, in the restaurants. especially in bigger cities vegetarian options are usually available.
but it is rather difficult to enjoy a big variety of vegan tapas, thats why i was trying to find alternatives and veganised some classic spanish recipes. here are the results, i hope you like them as much as my friends who came over for a spanish tapas party on the terrace.
tortilla de patatas
you need:
5 medium potatoes
1 zucchini
2 tomatoes
6 tbsp chickpea flour
4 tblsp soymilk
1 onion
salt & pepper
1 tsp curcuma
a pinch cayenne pepper
olive oil
thyme
1) peel potatoes, onion and cut into small pieces. cut zuchini and 1 tomato in thin slices.in a good frying pan, heat the olive oil at medium heat.
2) saute the onion, add the potatoes and cook them until they are almost soft. add zchini- and tomatoslices and let it fry for 1 more minute.
3) remove them from the heat and put them in a mixing bowl.
4) mix chickpea flour with the soy milk, 1/2 cup of water, salt and kurkuma, thyme and the peppers. chop the other tomato, ad to the flour and mix in a blender.
5) pour the flour/tomato mixture over the potatoes and mix well.
6) heat the frying pan with olive oil when hot, pour the potato mixture into and flatten in to a smooth and even surface.
7) cook the omelet for about 5 minutes with a lid on or you can use a large plate to cover. flip the omelet carefully and then cook on the second side for a few minutes.
empanadas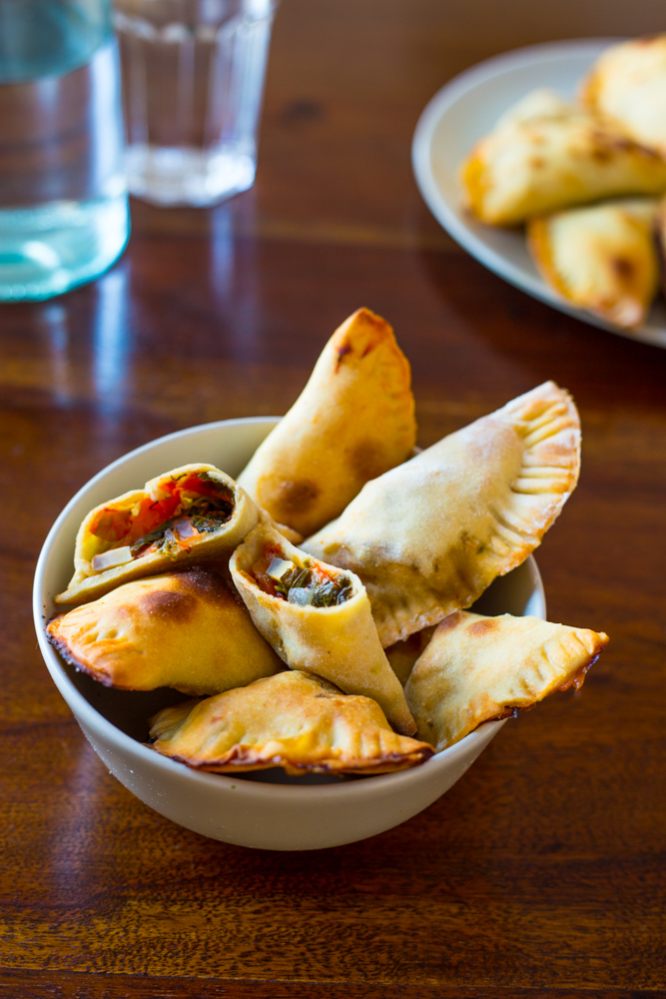 you need for the dough:
2 cups whole wheat flour
1/2 teaspoon sea salt
1/2 cup vegan soy butter
1/3 cup soy milk
for the filling

1 tblspolive oil
1 onion
1 red pepper
10 mushrooms
1 leek
1 clove of garlic
1 small piece ginger
2 medium tomatoes
4 handful of spinach
1 tsp salt
1 tsp grated black pepper
1) place the flour into a bowl and add salt and small cubes of margarine. rub the margarine into the flour until it resemble fine breadcrumbs. add soy milk little bit at a time and gather together to form a dough. if the dough is too sticky just add some more flour until it all comes together nicely.
chill until needed.
2) peel, clean and wash the vegetables. cut into pieces. cut onion, garlic and ginger.
3) heat the olive oil in a pan and add the onions, garlic, ginger, red pepper and mushrooms. cook on a medium heat for 5 minutes stirring regularly.
4) then add the tomatoes and leeks and cook for 5 minutes more. add the spinach, salt and pepper and cook for 3 minutes stirring every now and then. check seasoning. leave to cool.
5) heat oven to 200 degrees.take the pastry out of the fridge and lightly dust a work surface with flour. roll out the pastry and use bowl to cut 10 cm diameter rounds.
6) place each round onto a baking tray and spoon the filling into the middle. each pasty will take about 2 tablespoons of filling. wet one edge of the round with a little water and fold one edge of the pastry over the filling and use a fork to bind the edges together.
7) brush with soya milk and bake in the middle of the oven for 30 minutes.
enjoy fresh and hot or even cold on the next day.
pan con tomate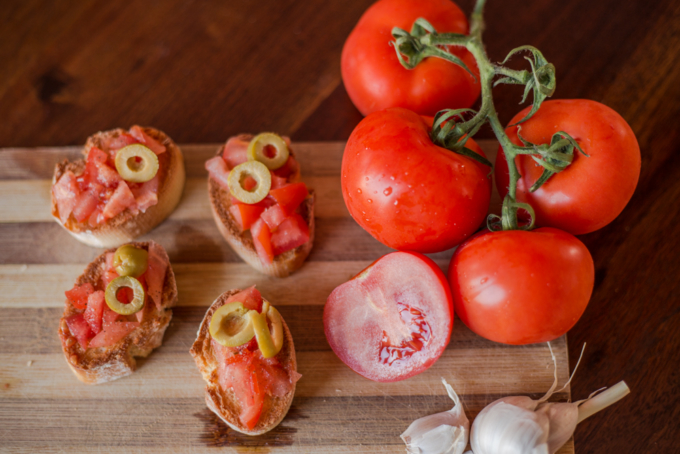 you need:
1 fresh loaf of crusty bread
2 fresh tomato
1 clove of garlic
extra virgin olive oil
olives
1) Cut the freshly baked bread in slices and toast under a toaster oven.
2) Cut the garlic clove in half and gently rub on the toasted surface of the bread.
3) Drizzle on a small amount of extra virgin olive oil.
4) Cut the tomato in half and rub it against the surface of the bread until it is coated but not soggy. Add an olive on each piece.
very quick & easy recipe and perfect as fingerfood for your guests.
what is your favorite spanish dish? let me know what your taste buds say to this and leave a comment!