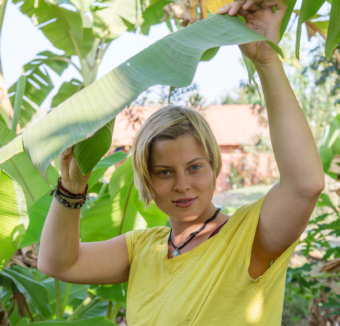 hello, i am wildhearted
nice to meet you and welcome! wildherzig is a blog, containing a mixed variety of encouragement to live mindful. self-development, environmental protection, travelling and vegan food are main topics here. if you are looking for inspiration to make the world a better place, come and have a look here!
my name is ellen. i write in lower case. i love being outdoors and discovering the world with my camera. i dislike winter and grey rain days, so i stay inside dream about the ocean.
travelling is one of my favourite things to do, besides taking photographs, cooking and yoga. i travelled cambodia and laos by my self on a 250cc dirtbike. i lived in new zealand, germany, cambodia and spain, visited  china, malaysia and thailand , did a yoga teacher training in india and crushed in some places in europe sure. yeah the world is so big and i haven`t been everywhere but it´s on my list! 
to be an activist for environmental issues is a major focus too. the planet we are living on is getting worse, the reason is our lifestyle with its giant amount of consumption of energy as well as animal products, mobility and globalization, and all the waste we produce. i started to get interested in permaculture and realised a photojourney through different projects, that i will publish soon.
the beauty of mother earth is vulnerable and we have to protect her. thats why i am blogging. i belive it is important from the bottom of my heart.
to inform, give food for thoughts, show my path, inspire and present possibilities. but i don´t want to push anyone to a certain lifestyle. as i believe, the good has not only to be realized but to be done.
erich kästner says:
there is nothing good but doing it.
enjoy reading and learning. if you like my page, share it with your friends and like it on facebook.
i am happy to answer you questions via contactform.
if you want to support my work, i am happy about your donation as a sign of appreciation