in every place in the world i stay for a while, i miss german bread! here in spain the bread is mostly white and fluffy. sometimes it has some grains and seeds on top. most of the darker bread on offer is coloured with malt syrup. but nothing to compare with good sourdough rye bread.
only a few places in barcelona offer good bread and know how to do it right. one of them is the organic bakery barcelona-reykjavik. in here the bread is delicious but expensive. the good thing: they sell sourdough to bake your own bread. i was very happy to find that because if you do it right you can bake many loaves from only a little jar of sourdough. and with some support of the nice people who come and visit me here and bring some speltflour i can even make it more authentic.
how to use the sourdough and propagate it
sourdough
3tbsp rye flour
3tbsp warm water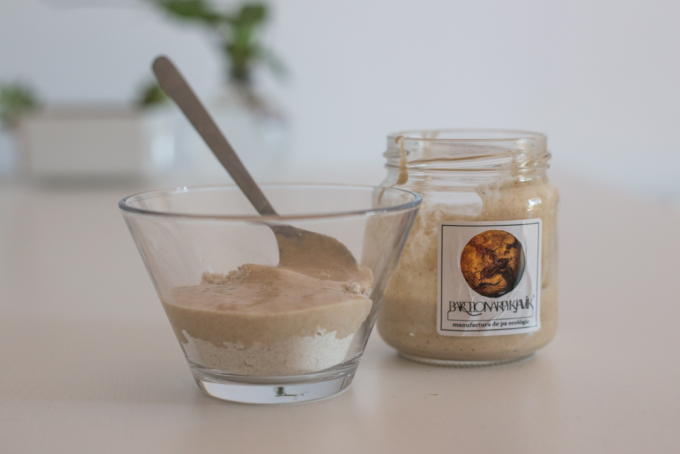 1) take 1 tbsp of the sourdough and put in a clean bowl. (the rest of the sourdough goes in the bread you will bake after.)
2) add rye flour and water and mix it up until smooth.
3) put it back in the clean jar and leave it open in room temperature over night. you will see the dough rising because the bacteria is increasing and growing.
4) in the morning, close the jar and put it in the fridge. it will be ready for the next bread and should be used within 10 days. then you start this process again to make sourdough for the next bread and again and again.
how to bake the rye sourdough bread with nuts
200g wheat or spelt flour integral
200g rye flour
sourdough
1pck yeast
1pinch salt
1tbsp olive oil
1tsp agave syrup
50g linseeds
50g walnuts
50g sunflower seeds
50g pumpkin seeds
300ml hand warm water
1) mix the flour with salt in a big bowl, ad seeds and nuts, olive oil and agave syrup
2) ad the sourdough and yeast and water at the end
3) take your washed hand and kneed all together until you have a smooth dough that sticks to your finger and is not too dry
4) leave the dough for around 45 min to raise in a warm place (next to a sunny window or the heating)
5) take the dough out of the bowl on a surface sprinkled with a handful of flour and form a bread loaf
6) put the loaf on a griddle with backing paper and cut a 1cm deep line in the top with a sharp knife. you can spread some linseeds or oats on top to make it look nice
7) leave the bread for another 10 min to rest, then put in the preheated oven, 30 min 190°c. it is done when the outside is gold brown and a bit crusty.
enjoy the bread savoury with hummus or sweet with coconut oil and jam.