often i ask myself how can i improve my behavior to work against climate change and not destroy the planet with my consumption. i try to make right choices, when buying and ask where things come from to avoid long distance transportation of products. once i started to analize my daily intake i realized, i have a coffee every day, mostly in the afternoon. sure, it is fair trade, bio coffee. no harmful chemicals are used to protect the farmers health and the ecosystem for future generations. but that coffee, obviously, does not grow where i drink it. the transportation plays a big role on the ecological footprint of a product. so i started to research if there is an alternative that produces less co2 while transporting it from south america to germany. and there is! slokoffie, a new german brand that is shipping fair trade, bio coffee on a sailing boat, emission free.
on of the founder behind the scene is maik hembluck, i interviewed him about the project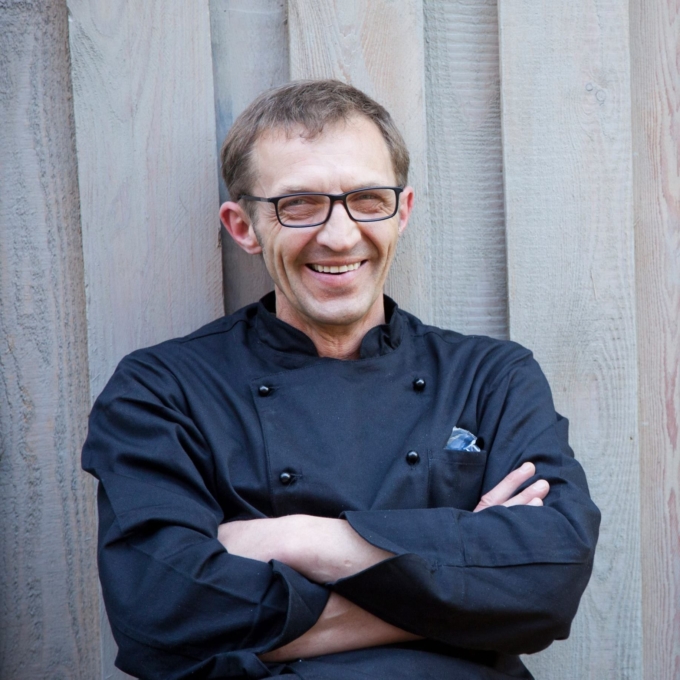 hello maik, thank you for your time and collaboration. you are one of the founders of slokoffie. tell me about yourself and your project!
where are you from and what drives you?
i have a very intense life with lots of ups and major downs. i am single parent of three children in bremen / germany. since a while now i am very happy as never before in my life. thats also because of what i am doing at the moment.
what is your profession?
i learned to be a baker, wholesaler and mechanical engineer. when i was a child i wanted to be a cook.
now i work in my dream job as a entrepreneur of my BIO-FOODTRUCK. as a salesman for coffee, fair-trade and from organic producers, climate friendly transported, i have found a way to raise a political voice and create the possibility to motivate people to contribute to a better world.
what is your passion?
i love to be in contact with people and to support them with delicious food. of course only organic quality.
tell us more about your project slokoffie! when did it start?
the label was founded in 2016 with my college thomas riedel fricke. the planning was not easy. lots of conversation, patience and the strong believe on this good thing that will come out: clean, emission free, highquality coffee, that will hopefully establish soon. in a society where coffee is consumed everyday and trendy drink number one, this is not self-evidence.
how did you realize your idea?
in the beginning thomas was traveling to honduras with a big portion of enthusiasm and idealism. he got to know the coffee exporters with whom he travelled around the highlands, to meet the cooperative CAFICO (cafes finos de copan) and visit the farms. here he got an impression on how the coffee is produced, talked to the farmers and checked the working conditions as well as the quality of the beans.
once the founders of TIMBERCOAST, where convinced about transporting the coffee, theoretically there was no doubt anymore. but this is when the work just really started. contract negotiation, packaging design, logo and cooperate identity, loading the coffee on the ship, contribution… all these are important tasks to run this business.
now we are just right in the middle of it still but a lot further to our first cup of slokoffie. on the 22nd of april there will be a sailing ship entering the harbor of bremen. on board are 20 tones of best raw coffee, packed in 290 bags. then the AVONTUUR and its 15 volunteer crew with the head of the crew, cornelius bockermann, can look back to an adventurous tour, that started on the 3rd of february in the port of puerto cortes / honduras. somethimes it moved fast, sometimes slow, depending on the wind and weather. two month took it to ship the precious goods on the 1920 build freighter, as part of the concept of slokoffie, move slow, good things take time…

there is 90% co2 reduction compared to convenient shipping or transportation by plane. this is the proof, that a good  can be fair, ecological friendly produced and transported, with out being unaffordable.
the quality of the coffee is high standard, 100% arabica beans, grown in the highlands of honduras, hand picked and sun dried. it gives a caramell chocolate taste with a smack of citrus.
wow that sounds like a great endeavor for a good cup of coffee! where can we buy it and what is your future plan with slokoffie?
from now on the coffee is available on our online shop. but the delivery will start in may 2017 once the ship has arrived and the coffee is roasted through our partner de koffiemann in lilienthal.
there is also the possibility to buy the coffee from shops, a list of contributors is also available on the web site. the plan is to sail once a year across the atlantic ocean.
to establish this product it needs a lot of enthusiasm and people who are willing to make a difference with their purchase. only with a conscious consume we can develop a better handling of our resources, with out exploiting but protecting nature. slokoffie is not only a product to enjoy it is also an adventure – a political statement for environmental protection.
our dream is to establish this brand, so that it could become a wide spread, trans-regional product that from which people and nature benefit over a long period of time.
well that is an awesome product, great effort!  i wish you all the best and a good arival day of the boat.  i will try the coffee once its ready! thanks again for sharing your story.