well well big news, i am pregnant.
oh wow! it is starting a new chapter in my life now, i guess. without really knowing what is happening and how it is going to look like. i am discovering this new form of being me by sharing my body to another human. here in this new category "happy baby", i would like to share my experiences around pregnancy and becoming a mother with you. i hope to some of you it can help to understand yourself being pregnant better or your partner and maybe to some others it is an interesting side knowledge. and perhaps somewhen in life becoming a big topic for you as well. enjoy the stories and feel free to comment your own experiences! i am always happy to know how it feels for others to be parents!
so i will start right from the beginning, when i realized that i am pregnant at the first day, i guess, i was standing inside of a train. it has been a busy morning and i almost lost the train. i was with my bicycle and packed bags on the way to a job. the elevator in the trainstation i wanted to use, did not open the doors on top. so i hat to get out, carry my bike with luggage up the stairs and reach the train that shut its doors already. i screamed to one women on the platform, please hold the door open and finally i got in! out of breath, almost collapsing and trying to find the ticket machine. i ordered my ticket and for some reason the machine did not want to accept my bankcard. that was too much… i stood in front of the ticket machine and started to cry like a baby. in my head it was the end of the world. oh my god i never reacted like this before… usually there is a solution always. and really there was one here too. but that was the moment i felt something was wrong with me. in the following week i started to cry several times for really silly reasons.
at the first day my period did not come, i was going crazy and went to a pharmacy to get a test. me and my boyfriend where so nervous, but at the same time i knew whats going on. the test was of course positive and we just went becalmed to bed. we are going to be parents… wow.
i have to say that i still had some doubts, if this is all true, so we went together to the doctor, just the week after and he told me, that it might be true, but he can not see anything yet, as the fetus is too small still. well so for the real truth i had to wait another 3 weeks. this where really long 3 weeks! i went to the doctor once again and really on the first ultrasound there it was. my baby! i cried and cried. first out of release, as i had the wish to have a baby probably for the last 8 years. and then out of fear. what the hell am i doing, now i have this crazy resposibility. and all those questions did come up. am i capable for this big task? is it really what i want? how is it going to be…?
the next few weeks where shaped by a lot of sleep and odd nausea. i tried to sleep as much as my daily routine allowed me. i felt exhausted after 2 hours of working in the garden. and slept for two hours. in the night my sleep went up to 9 hours. and i literally could not smell my boyfriend. i did not feel like belonging to him and started to sleep only alone in the bed. i like to spend more time alone than together. for him it was so hard to understand this big swop of emotions. and it still is. thankfully now he is really patient and letting me all the space, after rough discussions and heartfelt pain. i hope my hormons will change once again and let me feel connected and that i need him later on…
now i am in the 4th month and all the sickness is gone.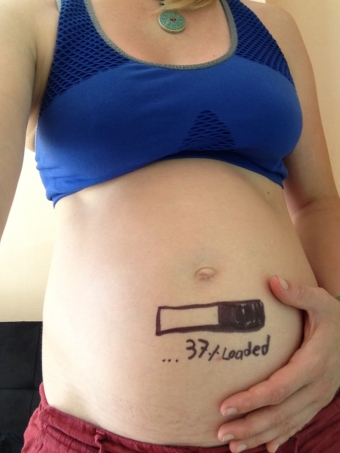 i have a good energy level, a big appetite. i am mostly eating vegan with some cheese once in a while and ice-cream almost everyday. my blood level is according to the norm but i stil take iron and folate substitutes. i have a good load of work to do as i want to work as long as i can. being a freelancer is not the easiest thing while being pregnant or after birth but that was my will. right now i am in france, cote d´azur and its quite hot here. the sun is making me a bit slow and i don´t feel like doing much. lingering around the pool and in the shade is the best! my dreams are very intense at the moment and mixed up present, past and future thoughts. i guess the baby is making me much more sensitive.
so far this is my first 3 month of pregnancy. i will let you know how it will go on, stay excited as i am! 😉